Metal Sign Frames for Large Yard Signs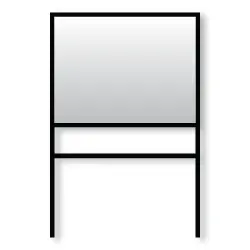 Here at Super Cheap Signs, we know that generating buzz for your political candidate or business can be tough. You want to make sure that your signage is big and bold enough to catch people's attention, but you don't want to spend a fortune. That's where our Large Metal Yard Sign Frames come in!
Made of heavy-duty steel, our frames are perfect for outdoor sign installation of 24" x 32" corrugated plastic or metal yard signs. They're easy to set up and come with two pre-drilled holes at the bottom for a 32" wide rider sign.
Plus, they're in stock and ready to ship - so you can get your business noticed in no time!
24 x 32 Large Metal Sign Frame
Our Large Metal Yard Sign Frames are made of heavy-duty steel and are perfect for large corrugated plastic or aluminum yard signs.
Intended Use: Holds large 24" x 32" corrugated plastic or metal yard signs
Material: Made of heavy-duty coated steel
Accessories: 2 pre-drilled holes at the bottom for a 32" wide rider sign
Availability: In stock & ready to ship