Metal Sign Frames - Hold 18 x 24 Yard Signs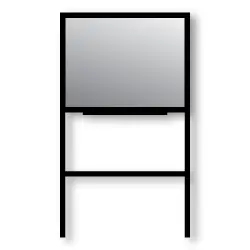 Introducing our Standard-Sized Black Metal Yard Sign Frame! This heavy-duty steel frame is perfect for holding either corrugated plastic or aluminum yard sign.
Our metal sign holder is made of durable coated steel that will withstand the elements and keep your sign looking great for a long time. These are perfect for longer-term sign installations or for signs that get moved around frequently because the sturdy frames will protect your signs.
This sign frame has two pre-drilled holes 16" apart on the center for bottom rider signs (rider size 6" x24"). Shipping weight is approximately 9 lbs.
18 x 24 Metal Sign Frame
Our Heavy-Duty Metal Sign Frames are perfect for outdoor installations of corrugated plastic or aluminum yard signs.
Intended Use: Holds an 18" tall x 24" wide (landscape) corrugated plastic or metal yard sign
Material: Made of heavy-duty coated steel
Accessories: 2 pre-drilled holes at the bottom for a 6" x 24" rider sign
Shipping: Weighs approximately 9 lbs.
Availability: In stock & ready to ship