Custom Sign Coupons and Promo Codes
Looking for a way to save on your next Super Cheap Signs purchase? Sign up for our free email newsletter at the bottom of almost any page on our sites and we'll regularly send you our best deals and promo codes right to your inbox!
While we pride ourselves on delivering high-quality custom sign products at everyday low prices, we also like to reward our existing customers and biggest fans with coupons and promotions that let them know how much we value them.
Super Cheap Signs Email Newsletter Promotions
Whether you're waiting for the perfect price on yard signs for your business or looking for a deal on a vinyl banner for your next company event, we frequently send out promo codes for different products and accessories. So subscribe now to ensure you don't miss out on the latest and greatest offers!
Signing up is easy, and if you act fast, we'll even give you $15 off your first order just for subscribing.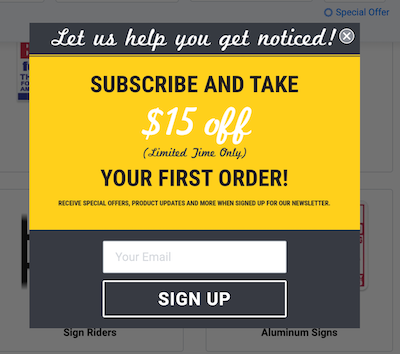 Current Product Promotions
The list of current coupons and promotions can change frequently, so bookmark this page and check back often.
Big Campaign Signs
Sometimes called political road signs, these essential election campaign components can be read from far away and at high speeds. These are the perfect complement to campaign yard signs. Use the same design for both sign types to ensure your candidate's name gets called on election night.
Promo Code: BIGCAMP10 (use at checkout)
Save in Shipping When You Buy 100 Yard Signs
Our 100 Yard Signs for $99 deal has been very popular over the years. So we decided to sweeten the deal with a 25% discount on shipping. Certain conditions apply. Details can be found at: https://www.supercheapsigns.com/100-signs-for-99
Promo Code: SHIP25 (use at checkout)