Color Info
Standard Colors: 1-3 color designs go through our screen printing process. Screen printing uses mesh stencils and solid ink colors to create stunning, crisp imagery at a cost-effective price point. Unlike conventional printers which mix inks before laying them down, screen printing lays one solid color down at a time in a layering process to produce a final image.
Full Color: If screen-printing isn't enough to suit your needs, not to worry. Our full color printing options cover any and all designs submitted to our production team with as many colors as you need.


PMS Colors Chart: Printing Color Chart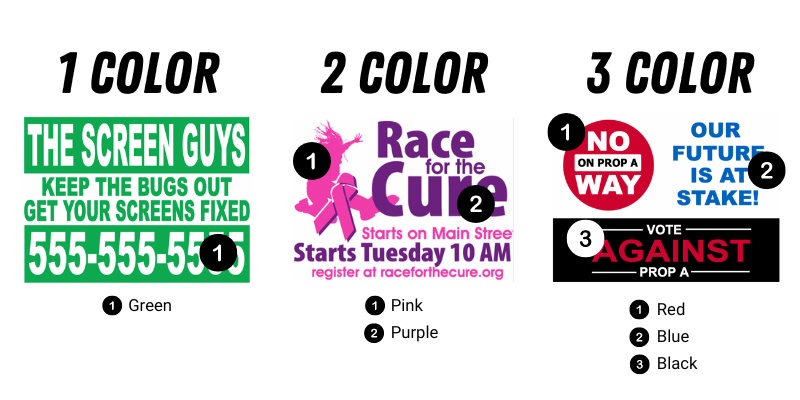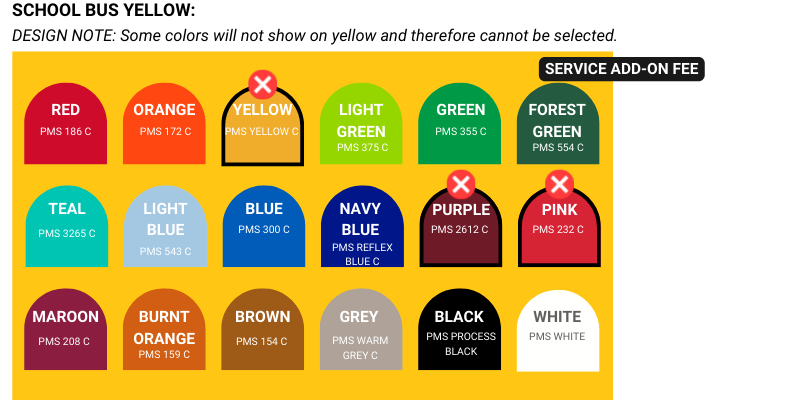 Color Matching Services: Colors falling outside of our Standard Color chart must be hand-mixed by our print technicians. For 1-3 color designs requiring specific colors you can add on PMS color service item and we will use the specific PMS code you choose. If no code is provided, the closest printable approximation will be mixed.


Full Bleed: Artwork background must be separate, vector or sent half an inch larger than size of media ordered. We cannot do a bleed on any sizes smaller than 18x24 (i.e 6x24, 9x24, 12x18 etc.)
We understand the importance of making your signage stand out from all others. We want to make sure that every customer is satisfied with our products and services, so we are committed to creating a great quality product that you will be proud of for years.